Shujaaz Fans Join Former Chief Justice Dr. Willy Mutunga in an Online Live Chat
Last week, we were pleased to welcome former Chief Justice of Kenya Dr. Willy Mutunga to one of our 'Mic Yetu' ('Our Say') online live chats. Close to five thousand Shujaaz fans across the country tuned in to the interactive session, to discuss how young people can turn their voices and ideas into action.
During the hour-long online conversation, our panel of young leaders and Shujaaz fans joined Dr Mutunga to share their ideas for how young people can come together, and mobilise change in their communities. The session was led by our Mic Yetu moderator Okoth Opondo, who was joined by Josephine Flora a student at UoN, Mathew Muthomi, a Shujaaz fan and Gikonyo Catherine an Education student at Egerton University. This event has so far recorded the highest online engagements of all Mic Yetu events, with over 4.8K young people tuning in to watch and contribute.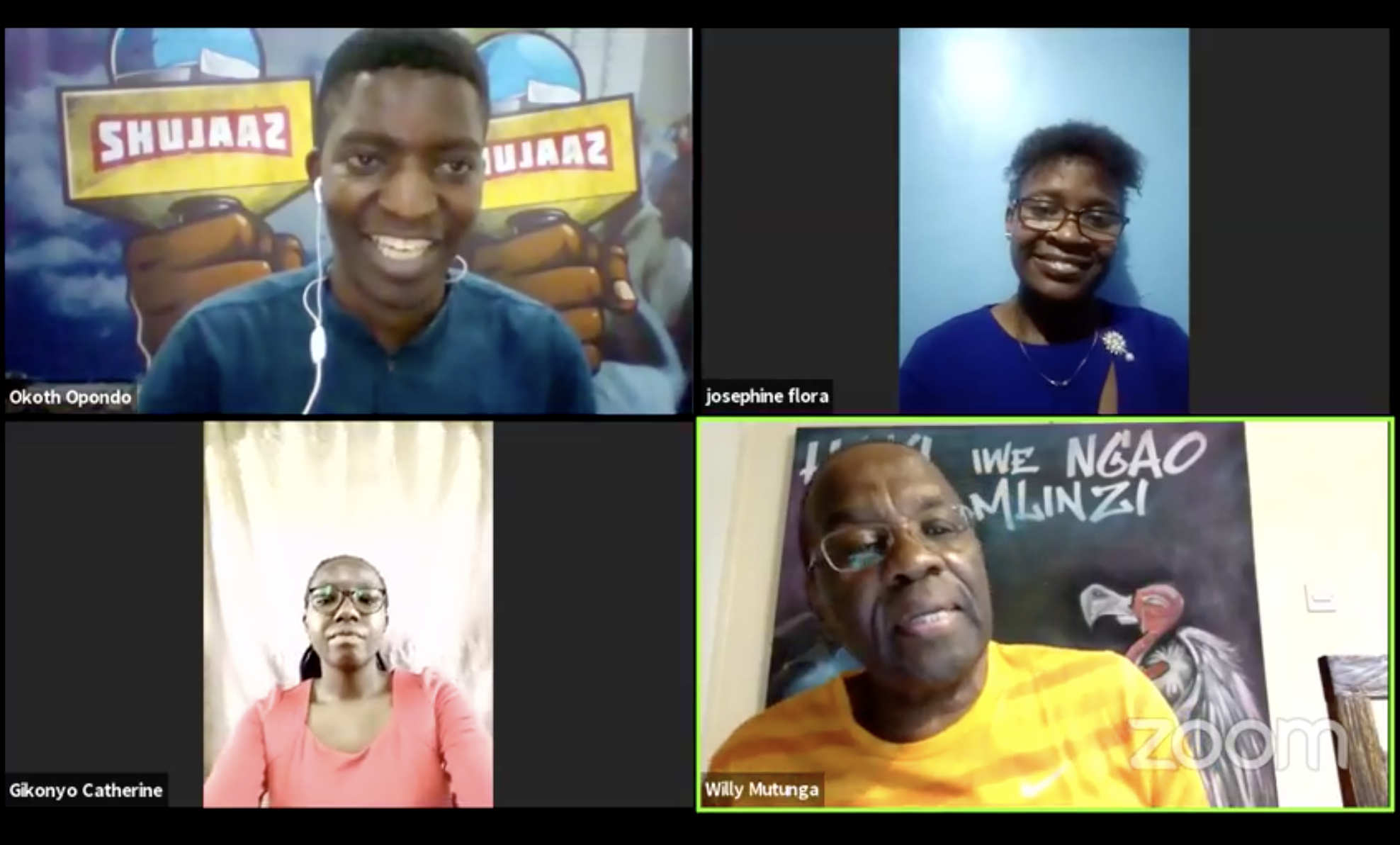 In conversation with our young panelists, Dr. Mutunga called for young people to mobilise and come together at the community level in order to influence their peers to start taking action. He said "It's one thing to have a voice. It's another thing for that voice to be heard and another different thing to turn the 'heard voice' into action".
Towards the end of the session, Dr. Mutunga highlighted that leadership needs to start from the community level – and reminded our fans that that's where young Kenyans can really engage. Shujaaz Inc research shows that 73% of young people believe they personally have a role to play in local governance – and 88% believe they have something to contribute to their community. As our panellists highlighted, this generation want to be involved at every stage of how their communities operate.
It's one thing to have a voice. It's another thing for that voice to be heard and another different thing to turn the 'heard voice' into action."
Designed and moderated by our team of young producers and researchers, our Mic Yetu live events have engaged thousands of young people in vital conversations on the issues that matter most to them. After every session, young people commit to taking positive action, like organising and forming youth groups and working together to raise their collective voices online.
Reflecting on this session, one of the participants said: 'What I've gotten from this session is, if I bring together young people of similar mindset, if we are five or ten, we'll convince ten others, who will convince another ten and the cycle continues. And with time, we will be speaking the same message to over a million people and we will get the change we want. Change takes time.'
At the end of the session, Dr. Mutunga reminded Shujaaz fans watching at home about the importance of coming together even in small groups in their local communities, saying: 'When you look at history, you will see that it is always a small group of people who end up changing the world.'
This Mic Yetu session is part of our on-going live online event series, that is designed to connect our 3m online fans to their local leaders; to spark vital conversations and elevate the voices of young people. Going forwards, we're working to hold more sessions with government influencers to create spaces for honest, open engagement between young people and their local representatives.
Gertrude Bosire, Communications Co-ordinator