#Shujaaz360 KENYA 2017 State of the Youth Report: Part 2 'Hungry, Angry, Lonely, Tired' [ARCHIVE]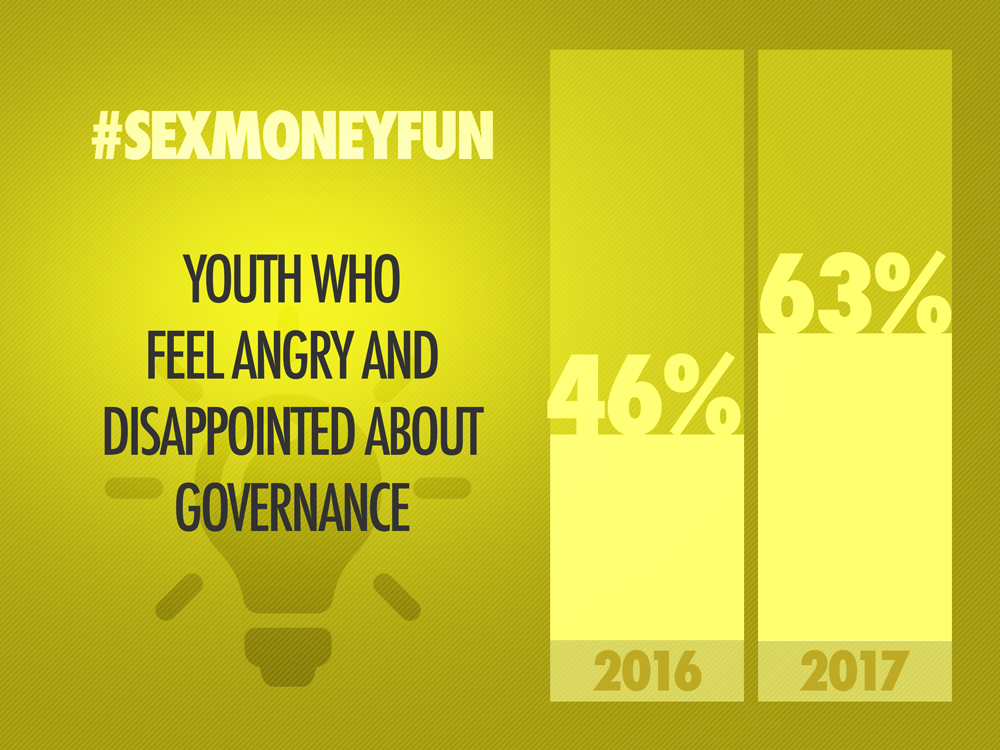 Well Told Story's annual State of the Youth Report, based on 2900+ interviews with a nationally representative sample of Kenya's 15-24 year olds
In the midst of the financial squeeze, there has been a significant spike in Kenyan youth who are losing hope in governance 
>In 2015, WTS conducted a study to asses and segment Kenyan youth by their attitudes towards governance – the resulting 5 segments were used to tailor Shujaaz media campaigns;
>In 2017, we re-evaluated the segments and discovered that the group of indifferent (disenfranchised) youth had decreased with most moving into the disengaged segment (fed-up, voiceless and disappointed) and disgruntled (angry and vocal);
>Financial insecurity and the challenges of ever-rising costs of living, might be the key barrier to youth's positive engagement in governance;
>Kenyan young entrepreneurs – hustlas – appear more financially stable than youth on average. They can become youth change agents in governance engagement;
>For the past several years, through the integrated "hustla strategy", the Shujaaz team learned that youth, who manage to increase their income also report improved SRH attitudes and behaviours and more positive engagement with the community.
In 2015, WTS identified 5 youth segments as determined by their attitudes towards and engagement with governance. In 2017, we repeated the exercise to discover that the disengaged segment had doubled; that is youth who originally had hope and faith in the new devolved system and the opportunities it promised them, but who now feel let-down, excluded and voiceless. There was also a notable increase in the segment of disgruntled youth – those who are aggressively unhappy about the political situation in Kenya and are "fighting" to make their voices heard.
In the last quarter of 2017, the WTS Knowledge and Learning team conducted a collection of qualitative and quantitative studies to explore youth's experience during the election year and to see if this experience led to shifts in the youth's governance segments. The findings showed important shifts in youth's attitudes towards governance (Figure 1). In particular, the segment of disenfranchised has decreased, which means that in 2017, more youth recognize the relevance of governance in their lives and pay attention to what is happening around them. The segment of insiders – youth positively engaging with elected officials – remains relatively small at 9% of all 15-24 year olds but the good news is that it has grown from a tiny 2% in 2016. The bad news is that the two segments of unhappy youth, disengaged and disgruntled, have increased the most, containing 63% of all youth (up from 46%).
Why have these shifts happened? We would argue that the increase in the proportion of youth engaged in governance-focused conversations is natural for the election year; it is close-to-impossible to stay aloof amidst the whirlwind of the country's most important political debate.
A more important question would be – why does the whirlwind produce the results that we see? Normally, we would expect the "awakening" of the disengaged and disenfranchised to happen in a more balanced manner – with some positively engaging in governance and becoming insiders, with others being lured by money and/or the "promise of greatness" and joining the ranks of the linkers, and some converting from passively-unhappy into actively disgruntled. Yet, this is not the case – instead we've seen a disproportionate shift into the disengaged & disgruntled segments. Why is this happening?
It appears that Kenyan youth have entered the state of HALT, as it is defined in psychology:
They are Hungry – 38% of youth struggle to afford food and transport daily, up from 29% in 2016.
They are Lonely – Only 1 in 5 (19%) say they feel full support from their communities (Figure 2).
They are Tired – Most youth source money from at least two different income-generating activities: 83% of those who work (for an employer or for their own company) also report a side job and/or occasionally grow and sell produce; among students 21% earn money through petty jobs.
And they are Angry – anger becomes a genuine response to the confusion and havoc of governance related activities. Some voice it loudly, others throw up their hands in despair and give up.
So what does this mean for the stakeholders in the governance sector? According to the behavioural economics, a genuine inclination of those trying to convince people to change their behaviours is to show them the benefits of the new behaviour; yet, the most success comes from understanding and eliminating the restrictive forces – the forces that make people hold on to their old beliefs and behaviours – thus, creating internal/intrinsic motivation for change. We know that hunger, fatigue and loneliness contribute to the growth of the unhappy groups; we also know that a potential solution does not stop at educating youth about governance but has to include helping them to be financially secure  and to feel part of the community. In 2018, WTS will expand and finesse the governance strategy to include more inspiring money-making ideas and will continue building the Shujaaz community for youth to feel a sense of belonging and connection. As a result we expect to create positive spillover effects in other aspects of youth's lives, ensuring youth are more satisfied, more empowered, more connected and more positive about the role governance can play in their lives.