#Shujaaz360 KENYA 2017 State of the Youth Report: Part 1 'The Money Squeeze' [ARCHIVE]
Money & Entrepreneurship
29 Nov 2017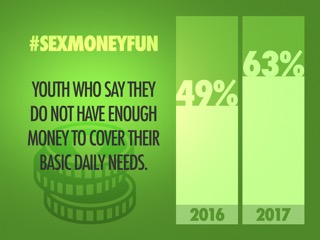 Well Told Story's annual State of the Youth Report, based on 2900+ interviews with a nationally representative sample of Kenya's 15-24 year olds
What happens when youth don't have enough money
>In the past 12 months most Kenyan youth slipped further into poverty
>Lack of money and an abundance of time led many youth to adopt risky behaviours – from substance abuse to unprotected sex
>Financial despair has fuelled youth political anger and anti-government sentiment
>Yet, hustlas (small entrepreneurs) remain the most successful segment of Kenyan youth, resilient to financial downfalls, independent, users of contraception and positively engaged in community affairs
>By inspiring and informing hustlas with an integrated communications approach known as the "Hustla Strategy", Shujaaz helped audiences buck the national trend, increasing their income and improving reproductive health attitudes and behaviours
In 2016, Shujaaz360 introduced the concept #SexMoneyFun to highlight the three critical drivers of youth behaviours. The key 2016 insight was that a promise of money alone is not enough to make youth care. Young people wanted an opportunity to use their hard-earned cash to "live a little". For example, the isolated promise of "you can earn a lot" was the reason many youth-focused agricultural campaigns fell on deaf ears: youth saw the money, but they also saw the loneliness, boredom and dirt associated with a rural lifestyle and agriculture. The outcome? Good money but no sex and no fun = no, thank you.
The 2017 annual survey provides a new insight into #SexMoneyFun trinity, with money emerging stronger than ever as the central, balancing element of the #SexMoneyFun concept, and the clear foundation of youth's psychological and physical wellbeing.
Our latest data reveals that when money is scarce everything suffers: millions of young people back-slide from hard won behavioural gains, with a visible regression on our Rejection Scale in a number of thematic areas, but in particular in critical Sexual and Reproductive Health (SRH) and Governance behaviours.   
In the past 12 months, the worsening economy saw young Kenyans struggled to earn: 63% said they could not cover their daily basics – a big increase from 49% in 2016. Furthermore, 73% had no money left at the end of the month – also up from 69% in 2016. In our SMS survey of 70,000+ Shujaaz fans, increasing cost of living and growing unemployment (or incomlessness) were named the two most pressing problems in youth's lives (31% and 29% of the respondents, respectively).
This shortage of money affects their self-narrative – damaging their notions of self-worth and agency. This increases their adoption of risky behaviours – as a trade off for money, comfort and social status. As the 2017 financial squeeze pinches youth right across Kenya, slight shifts in outlook and optimism become amplified among millions of individuals. A national tilt towards recklessness and unsafe sex, born out of money worries, is already having seismic consequences that we explore in this blog series on our 2017 Shujaaz360 report.
Further from the 2017 Shujaaz360 report:
>Incomeless youth are idle due to lack of opportunity, and idleness leads to substance abuse to make empty days shorter: 37% of youth told us that they know someone with an alcohol abuse problem and 29% know somebody with a drug problem;
>Substance abuse is often the reason for unplanned and unprotected sex, which leads to unplanned pregnancies: 11% of teenage girls (15-19) said they have a child vs. 7% in 2016.
>Idleness, substance abuse, the burden of unplanned pregnancies framed by financial despair lead youth to resentment towards their environment, community and the government being part of it: This year, we've seen a three-fold increase in the number of disgruntled youth – those angry with the government.
Despite successful individual programmes and innovations, the underlying negative 2017 trends are worrying. The bulging youth population framed by increasing financial volatility, hunger, boredom, and risky behaviour is a crisis waiting to happen.
But not all is lost – there is good news in the report too.
For a few years now, many Shujaaz media campaigns have focused on hustlas as the agents of positive change in the youth population. With a small business to protect and plan for, their futures to consider and their ambitions and energies focused, hustlas are psychologically, socially and financially well prepared for hard times. Last year our Shujaaz360 survey found that Kenya's hustlas were making more money a month than average youth (KES 7,892 vs. KES 2,927 — that's US$75 vs $26). They were also more likely to have some money left at the end of the month to save or invest.
This year's Shujaaz360 survey delivers more proof that hustlas are the positive deviants in the youth space – and not just in terms of financial fitness. They also are more likely than average youth to be using contraception, to engage in with local governance and to take charge of their lives by making independent decisions.
Well Told Story (Shujaaz Inc) continues to challenge the 'money crisis' by making the hustla strategy central to most Shujaaz campaigns, regardless of the ultimate behaviour change we're pursuing. We're nudging more young people into this dynamic and optimistic youth community by providing them with role-model champions, ideas, skills and knowledge and it's working! More and more young people are trying out hustling: up from a quarter in 2016 to over a third in 2017. By sharing and norming the ideas and best practices of the hustla we are popularizing an accessible, positive and productive identity for Kenyan youth. We're helping ensure that regardless of age, gender or education, our 4m+ Shujaaz fans can put a bit of money in their pockets, add some fun to their lives, and have reasons to plan the family they want in future.