WE WON! SHUJAAZ INC IS ONE OF THE MOST INNOVATIVE MID-SIZED COMPANIES IN KENYA, 2022
Tech & Innovation
9 Dec 2022
In a gala held in honour of Kenya's Top 100 mid-sized companies in Kenya, Shujaaz Inc received an award for one of the most innovative mid-sized companies in Kenya. After a COVID-enforced two-year hiatus, The Top 100 awards, Kenya's largest celebration of excellence in the SME sector, returned to crown businesses that have managed to maintain an excellent track record despite the challenges of the pandemic. 
The Top 100 awards are informed by a survey focused on fast-growing mid-sized companies. An initiative of KPMG Kenya & the Nation Media Group's 'Business Daily, the Top 100 awards recognise the SME sector as a key contributor to Kenya's economic growth.  
Shujaaz Inc has been proudly recognised in the Top 100 award for the past five editions and even managed to be crowned with a special award as the most innovative company in 2020, pre-COVID. These special Awards are given to "industry champions who are leaders in specific fields".  
Innovation is a core principle of the Shujaaz Inc model, it is an honour to continue to be recognised for our work. We are led by a strong internal desire to constantly improve what we do, how we do it, and a commitment to become a global leader in media for social change.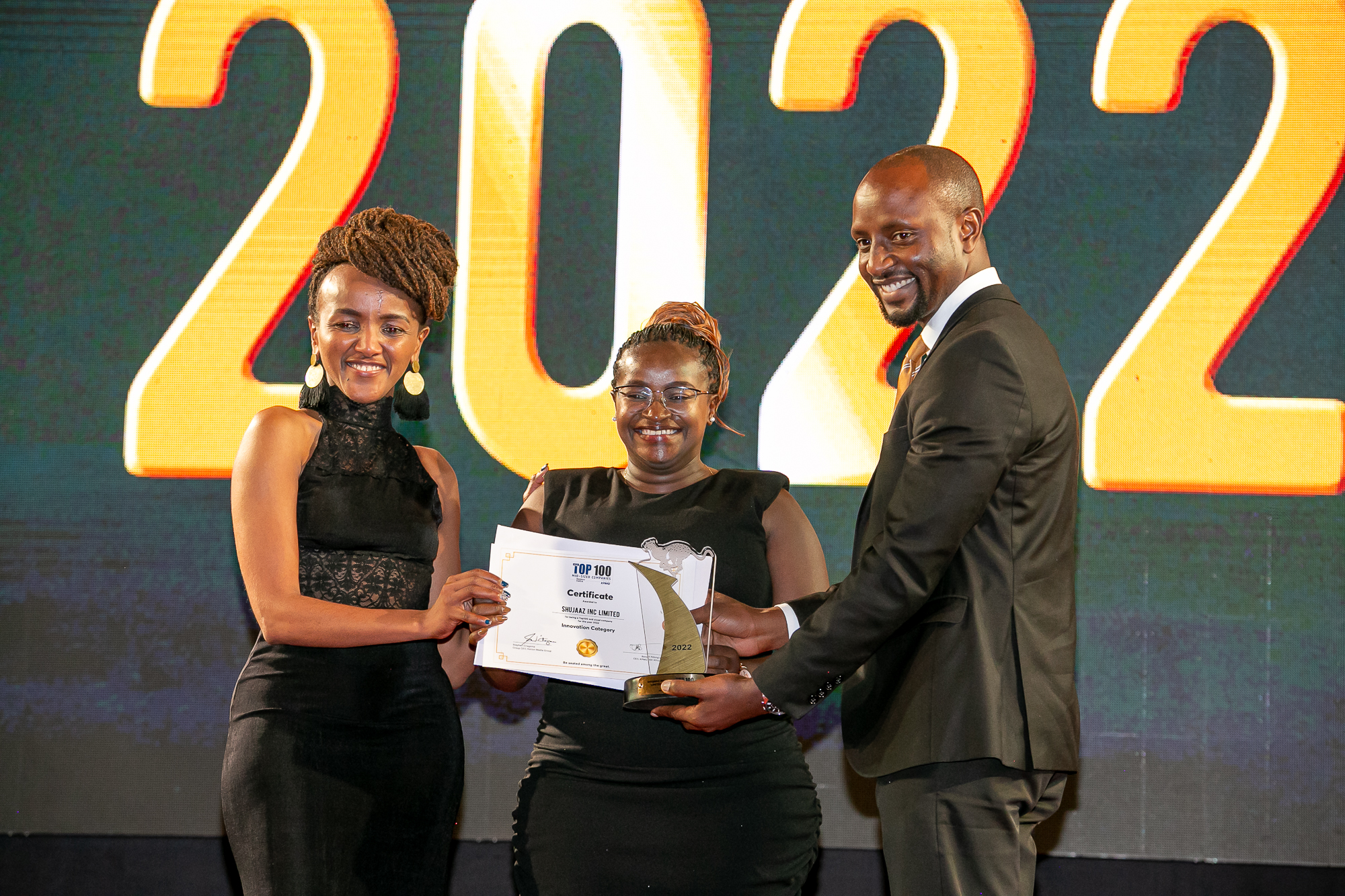 Our Senior Finance Manager, Mary Mungai, and Stella Njogo from the Strategic Communications team represented Shujaaz Inc at the event: "We are elated for this recognition of the excellence and hard work that the whole team continually displays! It reinforces our commitment to creating ventures, media and platforms that find innovative ways to break down barriers so young people can take control of the future." 
After over ten years of producing Shujaaz multi-media campaigns, we continue to push the boundaries to create more powerful media that puts young people across Kenya in control of their lives. Meanwhile, the team at MESH, a spin-out Shujaaz Inc venture, continue to innovate as they design and build the first online community for entrepreneurs in the informal economy.  
Thanks to our partners who believe in our work and our network of social ventures, we continue to push the boundaries on how we can help young Kenyans break the barriers that hold them back.